Does planning stress you out? Or are you one of those people who get giddy about planning supplies?
If I'm honest about it, I'm a little of both. I love to plan. I'm a natural-born planner. I love the planning supplies - the plan books, the pens, the stickers, the washi tape. It all makes me happy and I want to buy all. the. things.
But, once I have all the supplies, I feel overwhelmed. Do I really have time to put pretty washi tape in my planner? Do I really want to plan a year in advance? Do I really want to commit myself to everything I have planned this week?
Often, that means the pretty little planner and the pretty little planner supplies just sit at my desk looking, well, pretty and not-so-much useful. I have to find resources I can use to help me make a plan that won't overwhelm me.
Sometimes that even means I have to take myself out of the planning groups I love because I just can't be all that. I can't have a pretty planner that's also useful. I want to, but I can't. I can't spend time making it pretty. It just needs to be that way naturally.
Does Planning Stress You Out?
So, what do you do when you love the idea of planning, but you're stressed out before you even get to start? Well, before you grab the chocolate and look for a hiding spot, let me help you out.
I've scoured the planning universe to find you (and me) the best advice. My hope is that you will find something here that will help you have a low-stress homeschool planning experience. And check back often as I plan to keep updating this page.
Step 1: Find a Plan You Can Live With
I have different planners for different parts of my life. But no matter what planner I use, it needs to be one that I will KEEP using. I might buy the pretty planner, but if I don't use it what's the point?
There are SO MANY planners out there. Some help with long-range planning and some are more for daily planning. Some are paper, some are online, and some are a combination of paper and digital. There are planners for people who like to fancy them up with stickers and washi tape and there are planners that are no-nonsense-get-the-job-done types. Whatever your style, pick a planner that you WILL USE. Don't pick a planner if you know it will last one month and never be looked at again.
Review Last Year's Plan
But, before you jump on Amazon or run to Michael's to grab a planner, you need an actual plan to go in the planner. Start by reviewing what you did last year. It's important to think about what worked, what didn't, and why.
Remove the Chaos
My schedule can get NUTS! And, that is putting it lightly. I have a tendency to want to do all the things, but that isn't practical much less realistic. So start by getting a handle on your schedule. I love this interactive workbook that walks you through taming your hectic schedule. Find out what is really keeping you from having a productive (and sane year).
Create a Vision of The Plan
Step 2: Choose the Type of Planner
Planners for Long-Range Planning
I like to have a plan laid out for the year - a roadmap if you will. This roadmap will guide us on our journey. We may need to take an occasional detour or pitstop, but this is our overall map of the year ahead.
I like Pam Barnhill's Plan Your Year because it has so many wonderful long-range planning forms. These forms are digital, so I can type in them or just print them out blank and write in them. I love the diversity.
Online Planners
I use Homeschool Tracker for weekly and daily homeschool planning, for organizing the books and resources, and mostly for adding an entire year's lesson plans in only minutes. It has a ton of great uses. Now that the kids are older we are using the student function. My kids are able to go online to see their assignments and mark them complete.
Printable AND Editable Planners
I love the options that are available with combination paper and digital planners. I have never bought a planner (or a curriculum for that matter) that I didn't change in some way to better fit me. These editable planners give you the ability to customize forms to fit your needs. Every curriculum doesn't fit every child and every planner doesn't fit every homeschool mom.
Some of my favorite planners come in such pretty styles (remember, I need pretty to already be there for me).
Planners for Specific Homeschooling Styles
The number one thing we as homeschoolers discuss upon first meeting is what style of homeschooler we each are. We bond on those few styles. We join Facebook groups based on our style. We discuss it as if it's our homeschooling personality type. So, why not pick a planner specifically designed for our type of homeschooling?
For those of us who are Charlotte Mason Homeschoolers, you have the option of choosing a planner designed with beautiful watercolors or one full of Charlotte Mason quotes.
Do you need some help deciding how to plan your Charlotte Mason homeschool day? Simply Charlotte Mason has some great typical schedules to help guide you.
If you're a Classical Conversations follower, there are some awesome planners that make me consider switching styles!
And if you're coming up with your own lesson plans, follow these four steps to make sure you have all your bases covered.
Planners for Students
You've finished planning your entire homeschool year, but how do your children know what is expected of them? Teach them to use their own planners and teach them time management at the same time.
My daughter loves her planner from Apologia that's designed just for teens. If you prefer a printable planner, I love the different options available in the Plan Your Year kit. I also love the simplicity of this DIY elementary planner.
Step 3: Print Your Homeschool Planner
So, now you've got this great digital planner. It's awesome and you realize that maybe a hard copy would be nice. The cost of printing can be prohibitive when it comes to printing out this massive work of homeschool planning art. Find ways to print your digital planner on the cheap.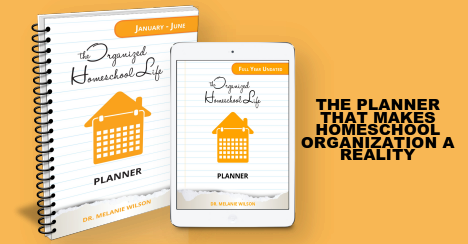 Step 4: Optionally, Choose a Planning Course
Planning courses are great because they walk you through the process of planning and give you that little help and encouragement that you need. I have used several courses over the years that have helped me in many different ways as our homeschool has developed and changed. Here are some I recommend:
The Bottom Line When It Comes to Planning
Planning can be exciting, or you may dread it, but don't let it overwhelm you. Planning is just that - a plan. It's a roadmap. Feel free to follow it straight to your destination or take a detour once in a while. And remember, if all else fails, follow these steps to put off planning for another day.
What are your favorite planning resources?
FREE Planning Pages! Click below.​